FS26EU USB2.0 Dual Card Combo Reader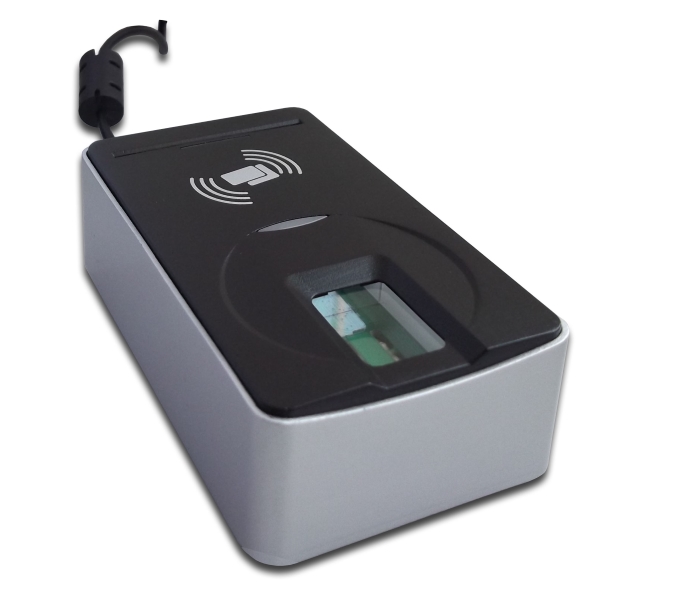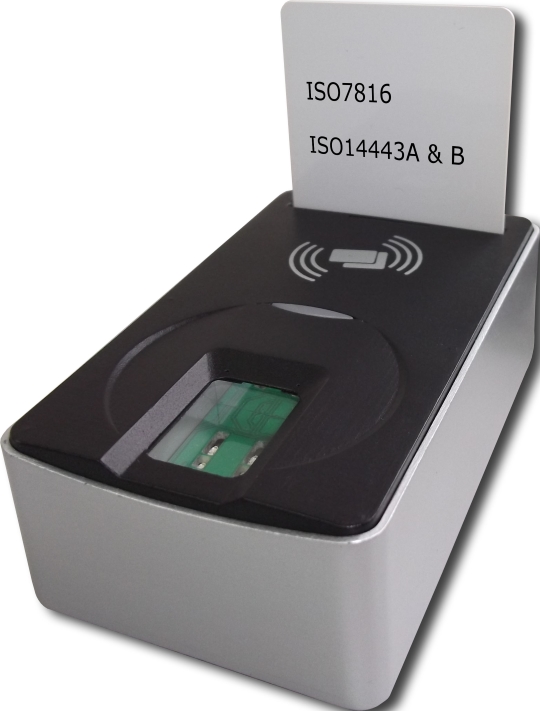 FS26EU USB2.0 Dual Card Combo Reader
FS26EU Fingerprint Reader combines Futronic's FS26E USB2.0 Fingerprint Scanner and a ISO7816 contact & ISO14443A/B contactless combo smart card reader into one device. A SAM (Secure Access Module) is also built-in to increase the device security. FS26E meets the US Federal Information Processing Standard 201(FIPS 201) for Personal Identification Verification (PIV) of Federal Employees and Contractors.
FS26EU has a powerful ARM Cortex A7 processor for on device image processing. It communicates with the smart card reader by internal serial interface. After a fingerprint is captured, the ARM Cortex A7 processor will process the image and generate a template for smart card storage, MoD (Match On Device) or MoC (Match On Card) processing.
FS26EU is an ideal device for highly secure two-factor authentication application. A user can register fingerprint and store on smart card (carried by user) and do MoD or MoC with a freshly captured fingerprint from fingerprint scanner at the time of authentication. The registered fingerprint template will never leave the smart card that further enhances the system security.
Specification-general

> USB 2.0 compatible interface, plug and play device
> With a 2 meter standard USB cable
> Small size, 120x72x42 mm
> Light weight, 250 gram
> Operation temperature: -10 to +55 Degree Celsius

Specification-Fingerprint scanner

> Fingerprint scanning window size is 16.26x24.38mm
> Image resolution is 320x480 pixel, 500 DPI
> Raw fingerprint image file size is 150K bytes
> With Live Finger Detection (LFD) feature
> With internal memory for 100 fingerprint template storage

Specification-Smart card reader

> Contact card

Full speed USB interface to PC with simple command structure
Support ISO7816 Class A, B & C, 5V, 3V, 1.8V contact cards *
Support microprocessor cards with T=0 or T=1 protocol
Support PPS & PC/SC

> Contactless card

Support ISO14443 A/B, Mifare classic cards *
Read/Write Speed up to 848Kbps
Card reading distance 10mm
Support PC/SC

> SAM
* For specific supported card types, please contact Futronic for detail.
Typical Application

> e-Government
> e-Banking and e-Payment
> e-Healthcare
> Transportation
> Network Security

Download